Hand Written and Painted Family Trees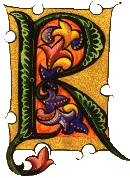 esearching your family history is a very rewarding occupation and to ensure that the results are preserved for the benefit of future generations as well as current family members it is well worth having the information properly designed and written out. Your research can be preserved either as a chart, as a roll up scroll or made into a book. The information will be designed and layed out in the clearest and most attractive manner. Extensive charts often require much careful planning to achieve a good layout especially if there are complications such as second and third marriages, inter-marriage within families etc. but with many years of experience in this field your work will be expertly handled. From simple four generation charts to roll pedigrees spanning centuries, your genealogy will be recorded as an attractive work of art to be preserved for future generations. The drop-line layout is the most frequently used and is the easiest to follow as shown in the genealogy of Sir John Swinburne above.Click on image for enlargement (large file).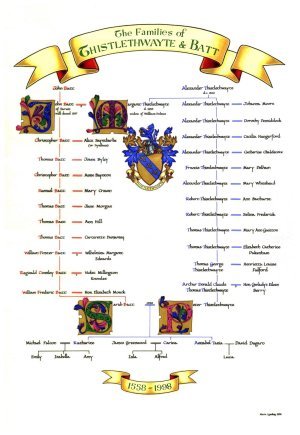 Left to right layouts, tree shaped charts, circular or semi-circular designs and single lines of descent are also possible. The best quality papers, vellum or parchment will be used for your chart. Some papers are available in large rolls enabling very extensive genealogies to be written on a single sheet. The chart opposite shows two direct lines of descent linked by a marriage and the resultant children. The banner heading shown is a very attractive way of incorporating the title of the chart. Below is an enlargement of one of the illuminated initial letters.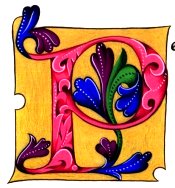 | | | |
| --- | --- | --- |
| | Coats of Arms, crests, illustrations of houses or towns, illuminated headings or other artwork can be added. | |
Please contact me for a current price guide for hand written and painted family trees.
---
---
Marie Lynskey
109 Nutcroft Grove, Fetcham, Leatherhead, Surrey, England KT22 9LD
Email:ml@clara.net
---