Family Trees
A Manual for their Design Layout & Display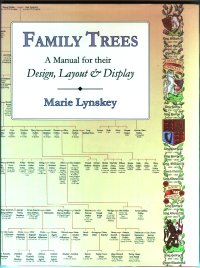 The family historian has had a gap in the bookshelf that has been awaiting this book for many years. It provides the first ever detailed guide to the alternative ways to lay out and draw up a genealogical chart, following on to the production of a finished document for display on the wall or in a book. A family tree chart can be purely functional, to convey its information in a clear and easily accessible manner, or it can be a highly decorative, carefully written and illustrated piece of artwork. The author draws on many years of experience of designing and drawing up such charts for a wide range of clients to furnish the family historian with a full range of options and methods in this very practical do-it-yourself manual.
Copious illustrations take the reader through each process in easy-to-follow stages. Solutions are given to such problems as multiple marriages, natural children, intermarriage, doubtful information and so on. Designs that ensure good proportions and clarity are described, including left-to-right layouts, circular or semi-circular designs, tree shaped charts, boxed frameworks and direct lines of descent.
Attractive, long-lasting charts require good paper and writing materials. The best choices are discussed, together with different styles of lettering. For those wanting a really eye-catching chart a section is devoted to decorative titles, borders and illustrations. Coats of arms are the traditional accompaniment to pedigrees and the subject of heraldry is covered in detail. The author also describes ways of expanding the pedigree information in book form, with illustrations, giving details of simple home-binding methods. Finally, she covers techniques of archival storage or of display of a chart in a frame or on rollers.
No aspect of pedigree preparation is neglected in this remarkable and long-needed account. Price £17.99. 172 illustrations in colour and black & white. (Published by Phillimore 2010, limp binding, 102pp, size 274mm x 206mm, ISBN 978-1-86077-596-3)
---
Illumination for Calligraphers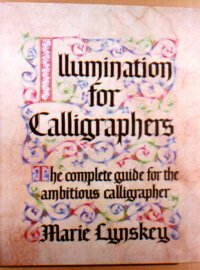 Taking up where the author's highly successful 'Creative Calligraphy' left off, this informative text will help you gain a thorough understanding of illumination techniques. Subjects covered include decorative borders, historiated initials, designing illuminated charts and decorative maps.

The various stages of creating special projects are described and illustrated in detail. Techniques such as diapering and filigree pen work, gilding and flourishing are explained along with a chapter on the preparation and use of vellum.

Other subjects featured include miniature lettering, celtic designs and calligraphic music to provide you with even greater inspiration to create your own pieces. A comprehensive list of suppliers rounds off this complete guide to illumination. Price £12.99. (Published by Thorsons 1990, hardback, 144pp, size 284mm x 215mm, ISBN 0-7225-2105-7)
---
Creative Calligraphy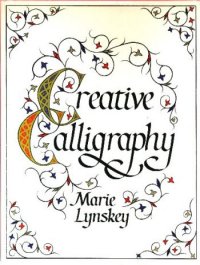 Creative Calligraphy is a complete course of instruction for all those interested in decorative lettering. The book begins with a comprehensive chapter on the materials and equipment necessary with a useful list of suppliers. For the beginner the techniques of the basic foundation hand are shown progressing through different lettering styles, general layout and page design.

There follows a section on simple projects - greetings cards, labels, posters, bookplates, maps etc. - a wealth of easy tasks on which to try your skill before branching into more complex items.

Chapters on designing a family tree and a beautiful text based on medieval manuscripts, give detailed instruction on topics for the more ambitious.

The book is generously illustrated with 111 diagrams and 23 plates making it great value for money at only £7.99. (Published by Thorsons 1988, paperback, 160pp, size 277mm x 210mm, ISBN 0-7225-1509-X)
---

Some books available from the author at the address below. Please use the ORDER FORM provided which gives full details of postage rates. Cheques should be made payable to C.M. Lynskey.

MARIE LYNSKEY
109 Nutcroft Grove, Fetcham, Leatherhead, Surrey. KT22 9LD. England
Email:ml@clara.net
---
---
---